Colleges and universities are large organizations that deal with hundreds of students and thousands of transactions in a single day. For making things simpler and clutter-free for the management, Euware online software solutions were introduced by Arth Infosoft Pvt. Ltd.
College management Software covers all the basic requirements of educational Institutions which include Financials, Administration, Daily Activities, Attendance, Examinations, Marks, Masters, Employees Payroll System, the product provides a stable transaction system and good reporting system.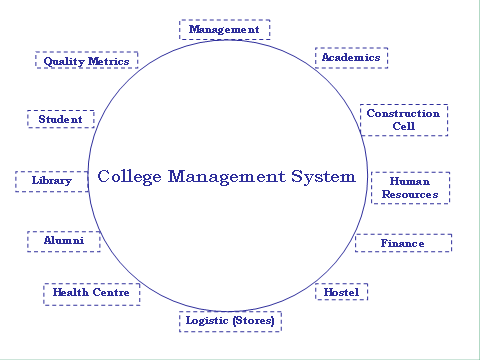 College management system that is designed to run on a customizable software system yields many benefits for the management and administrators alike. Depending on the nature of the software, the savings of the management can rise to 60% of the total cost of daily administration. Online Software systems are based on recording of data on a large platform without complicating the tasks. As such, this will reduce manual work and will put less pressure on the employees.
In general, an eduWare based software solution with offer integration of many regular running modules like admission, fee, department, examination, library, accounts, canteen, payroll, and inventory. The entire system is regulated on a web based server, where the management can keep an eye on the overall function of every department. software systems have a section that automatically generates conclusions in the form of tables and charts when required.
Complete
s
oftware also gives facilities to hostel management facilities like they gives room allocation, room vacancies, facilities available in room maintain the stock and other furniture, maintain the visitors records and maintain mess and cafeteria it involves victual management including inventory of stocks and consumables, invoices and receipt generation as well as weekly planning.
Another module of transportation is like total control of transport facilities including bus details route wise and its timing. Also stores financial details such like fees by class wise and standard wise, salary of staff and another expanses in short it maintain the complete accounting details. Staff Management gives Personal Details Profile including Qualification Details, Staff Members, and Current Staff, transferred Staff and Retired staff and the work they are doing including the subject they are taking.
school management system
is also much secure, in regards with data preservation and data maintenance. Most eduWare software operate on a web based server, where the data is stored securely, only to be accessed by the top level management. This will, in turn, bring transparency in the accounts, which is something that every management wants.
Apart from regular day-to-day management, there are options of addable modules like
Voice SMS, ID cards, bar coding, payment gateway, Leaving certificate and SMS
gateway among others. Each of these modules is immensely profitable to the management as they can have a better control the functioning of the college.
The data of each department and function will be stored at a virtual platform in a systemized manner, which will be accessible by only the authorized personnel. Most of these software systems are affordable and worth of one time bulk investment.
school management system
provide
One Month Demo
copy with 100% support from eduWare team. More than 200 – Reports which can be utilize for the Strategic planning for the colleges.